Best Boning Knives Reviews | Most Demanding in 2023
Unlike the multifunctional kitchen knives, the best boning knife is specified for a particular task. It lets you make precise cuts of meat ahead of a delicious prep.
Animal meat has a lot to offer from its contacting fat & bone. An improper detachment of bones or skin can mess with your favorite meal.
Traditional knives tend to leave lots of meat flavor on the bone. And a suitable boning knife can stretch your taste & additionally, your food budget.
Perfection is essential when you want to have the best performance. And that's where getting the right tool becomes vital for the job.
There is lots of confusion around while choosing the best boning knives. And it gets troublesome with variable design, specs & usability.
Our article covers a full in-depth detail of boning knives. Also, we've brought up here the best boning knife reviews for your consideration.
Boning, Fillet & Gokujo Knives: What are the Differences?
There are lots of variations in knife functionality. A similar design often makes it challenging to define significant differences. It's also true with most of the boning, fillet & even Gokujo knife models. At first glance, all three seem interchangeable in terms of their uses. Despite subtle variations, the types differ from usability &, of course, intended output.
Boning Knife
It's particularly suitable for the removal of bones from animal meat. You'll find this knife useful for poultry, pork & game. It features a thin blade with higher sharpness to make more comfortable cuts. For that boning knife is also famous as best boning knife for deer, fish and chicken. The blade itself offers medium or somewhat limited flexibility. You can find either stiff boning knives or flexible boning knives. For more excellent usability, customers tend to prefer semi-flexible ones. Limited placement of the steel blade encourages quick separation of bones. It mostly features a straight spine to enable precise cuts. Also, the blade end contains an incredibly sharp & pointed tip.
Fillet Knife
In simple words, it's useful for the removal of bones from fishes. The lightweight structure often features a limited blade length. Of course, it includes a thinner blade, just like boning knives. One noticeable difference lies with its flexibility. Filleting blades are reasonably flexible to tackle the soft fish bones. The blade spine can feature arched construction for improved maneuverability. For a graceful movement with contours to debone of chicken & fish fillet knife is the best. It may or may not contain any sharp pointed tip. Again, the structure is likely to include a gently extended heel near the bolster.
Gokujo Knife
Western knives developed for individual purposes. But Gokujo is like "All-in-One" knives. It combines the functionalities to introduce multipurpose models. One single Japanese blade can serve different purposes on occasion. The structure features an improvised design to enable both filleting & boning. So, Gokujo Knife is also known as the best boning knives and fillet knives.
How to Choose the Best Boning Knives?
Lots of available choices make the purchase quite challenging. There are obvious facts regarding the quality, value & performance of any knife. Certain factors can lead you to invest in the best boning knife on the market. They'll let you understand the important considerations while buying the ultimate knife.
Steel Quality: Almost all knife blades feature steel construction. But for steel, there are defined variations in composition. You'll have to focus on the steel surface & its polish.
German, Japanese & even European steel are highly preferable for maximum quality. A high amount of carbon within reasonable limits imparts superior strength. The blade has to resist rust, corrosion & other deteriorating effects.
Blade Size: Knife size determines the overall performance depending on your efficiency. For boning knives, the size is likely to remain within 5-7 inches. It may even go up to 9" with particular models.
But a 6.0" sized blade holds the worldwide standard for any skill level. A 5.0" edge is satisfactory for common household cuts on a smaller scale. Professional uses for commercial food-service may require more than one individual size.
Flexibility: It's one crucial issue that remains underrated by many consumers. Precise deboning jobs require accurate contact to take out the bones & skin. And that's where sufficient flexibility counts.
In terms of flexibility, there are two specific variations – flexible & rigid/semi-stiff. Boning knives mostly feature limited flexibility. Of course, it's handy in tackling very rigid or stiff animal bones.
To remove the bones from complicated joints, flexible ones are quite useful. It enables your accuracy in removing. But semi-rigid knives are suitable for eliminating long bones over straight cuts.
Edge Retention: Ultimate cuts come from the edge. You have barely any scope to compromise with this fact. You'll have to ensure good longevity of edge sharpness while it's in use.
No doubt, the sharpness will eventually fade away. Therefore, you'll have to re-sharpen the edge on a suitable interval based on work intensity. The re-sharpening or honing should remain comfortable.
Handle: A comfy grip promotes your control over the movement. Again, you can make the cuts without cutting yourself down. It's essential to ensure a steady, sticky & smooth holding all along.
Either wooden or polymer handles offer satisfactory performance. Better to avoid steel or slippery plastic frame. Not to mention, the handle is to remain intact against temperature & moisture.
Balance: Both cutting accuracy & user safety are important while working with knives. All the best boning knives feature a balanced, lightweight built.
It would be best if you focused on bolster integration & heel extension to ensure balance. Also, you better attend full tang/partial tang construction with or without rivets.
Comparison Table – Best Boning Knife
Product
Blade Configuration
Flexibility
Tang

Handle

Victorinox Swiss Army Cutlery Boning Knife
6" European Steel
Semi-Flexible
Partial Tang

(No Rivet)

Fibrox Pro
Mercer Culinary Genesis Forged Boning Knife
6" German Steel
Semi-Flexible
Full Tang

(One Rivet)

Santoprene
DALSTRONG – Boning Knife
6" Japanese Steel
Semi-Flexible
Full Tang

(Three Rivets)

Impervious G-10
SKY LIGHT Flexible Boning Knife
5.5" German Steel
Curved
Full Tang

(Three Rivets)

High Polymer
imarku Boning Knife
6" German Steel
Semi-Stiff
Full Tang

(No Rivet)

Pakkawood
TUO Cutlery Boning Knife
7" German Steel
Semi-Flexible
Full Tang

(No Rivet)

Pakkawood
Chicago Cutlery Walnut Tradition Boning Knife
5" Stainless Steel
Semi-Flexible
Full Tang

(Three Rivets)

Walnut Wood
Wusthof Pro Fish Fillet Knife
9" HC Steel
Flexible
Partial Tang

(No Rivet)

High Polymer
HENCKELS Forged Premio Boning Knife
6" German Steel
Flexible
Partial Tang

(No Rivet)

Polypropylene
HENCKELS Forged Premio Boning Knife
5.5" German Steel
Semi-Flexible
Full Tang

(Three Rivets)

Santoprene
10 Best Boning Knives
The quick comparison should provide you some insight into our top picks. For making the choice, you'll have to go through the details. Let's explore the in-depth best boning knives review one by one right below.
1. Victorinox Swiss Army Cutlery Best Straight Boning Knives

Victorinox itself is arguably the best boning knives brand around. And its Swiss Army sets several standards for everyday kitchen knives.
Among other cutlery pieces, the Fibrox Pro is one versatile boning tool. It's available in 5 particular variations to satisfy your kitchen needs. Of course, the straightened flexible blade offers maximum serviceability.
The premium boning knife lets you make the cuts easily. In fact, the 6" cutting culinary pierces the meat in exact size. You'll definitely enjoy thinner cuts of favorite fish & meat with accuracy.
Apart from superior construction, craftsmanship has a lot to offer here. The balanced & weighted knife is one preferable choice for culinary chefs.
High-quality European stainless steel encourages better workability. The lightweight structure feels comfy all along. You'll barely feel any wrist or hand fatigue over prolonged use.
'S' shaped flexible blade induces an excellent angle for deboning the meat. Its razor-sharp edge ensures precise cutting every time. Although the edge may require frequent sharpening, it surely gets the job done.
Unlike a full tang, the blade features partial tang integration. Again, there comes no visible '3-riveted joint'. Still, the knife remains highly stiff for making cuts without bending.
Proper honing of the built-in steel promotes optimum performance. Of course, it'll keep the blade sharpened for a long time. Honing after a couple of uses will retain the overall knife efficiency.
You can hone the blade easily within minutes by yourself. And each honing session lets you prepare one full deer. You can even fillet several dozens of fish without maintenance.
It comes with a patented Fibrox Pro handle design. The plastic easily withstands the kitchen rigors. Not to mention, the black handle imparts a comfortable & secure grip for any hand size.
Victorinox recommends hand washing for its majority of products. Likewise, you better clean the knife using soapy cloth for maintenance. Also, dry the blade immediately to prevent future risk of corrosion.
Though the construction is dishwasher safe, it causes high pressure on the blade. Therefore, the silverware may jostle to collide, affecting the edge sharpness.
Appropriate care will trigger further longevity without compromising quality. The kitchen appliance maintains a satisfactory balance between quality & affordability.
The knife is available at the lower end of the price spectrum. Without costing much, the culinary product delivers excellent performance for boning tasks. From every aspect, it's definitely worth your investment.
Highlighted Features
Lightweight blade of European steel.
Unique 'S' shape of the structure.
Standard blade length measures 6".
Quite balanced & weighted body.
Pointed tip to induce functionality.
Patented handle from Fibrox Pro.
Durable plastic with black appeal.
Partial tang comes without rivets.
Straight sized blade with flexibility.
Dishwasher safe, handwash clean.
Better cutting angle for deboning.
Standard NSF certified construction.
Perfectly fitting size for hand palms.
Easy to meat trim/removal.
Long-lasting service life.
Non-slip holding of knife.
Comfy grip without fatigue.
Accurate cutting of meats.
Long-lasting performance.
Suitable for longer holding.
Ergonomic handle design.
Poor edge retention.
Handle may feel beefy.
No protective sheath.
2. Mercer Culinary Genesis Forged Boning Knife

Mercer Culinary is one global source of reliable kitchen appliances & accessories. For more than 30 years, it recognized the demands of food enthusiasts. The company encompasses six product categories.
And likewise, it comes with lots of high-quality, value-driven knives. As it happens, the premium boning knife is one essential cutlery piece. The structure remains incredibly functional for modern kitchens.
It's one knife to suit the kitchen workers of any skill level. The cutlery piece is quite suitable for any professional chefs, occasional or home cooks.
A blend of classic craftsmanship with modern technology encourages its efficiency. Of course, the flexible cutlery induces improved performance inside the kitchen.
The Genesis boning knife features a top-class German steel blade. Not to mention, its overall composition comes from Soligen, Germany. In fact, the Cr Mo V15 steel imparts a 50x no-staining characteristic.
It contains a high amount of carbon to induce extended strength. You can easily make cuts & chops to debone the meat. The enduring blade strictly prevents rusting, corrosion & discoloring issues quite well.
Fully tanged frame includes a continuous blade throughout the entire length. Unlike common styles, it has only one riveted integration. But the joint is incredibly sturdy to support the pressure.
One unique feature is its fully forged construction. It enables quick & precise sizing of your favorite meat. The 6" long blade will ease the overall task while filleting the fish & deboning the meat.
Additional stability prevails with the built-in tapered ground edges. The design induces long-lasting sharpness over prolonged honing session. It even helps to retain the razor-sharpness over honing.
There comes an integrated bolster at the joint of blade & handle. You'll receive supreme integrity & balance for the knife. It'll certainly impart better control over every single cut.
In the meantime, the handle comes with durable Santoprene at the bottom. It ensures a comfortable holding without causing any fatigue. You'll get a non-slip grip even with wet palms.
The plastic is to withstand all the kitchen rigors resulting from hot & cold temps. The black plastic isn't exactly aesthetically beautiful but standard.
It barely possesses any health or safety-based risk for chefs or cooks. Not to mention, the knife attends the approval of the NSF standard regarding safe performance.
The kitchen accessory comes in a rather affordable price tag. The investment is worthy, considering its overall feature. It has everything to ensure a safe, precise & professional output.
Highlighted Features
Classic craftsmanship & design.
Stainless German cutlery steel.
Containment of higher carbon.
Sufficiently long with 6" blade.
Precision forging for longevity.
Outstanding sharpness retention.
Full tang, one-rivet integration.
Inclusion of bolster for balance.
Ergonomic Santoprene handle.
Non-slip, comfy holding of knife.
Functional taper-ground edges.
Simple cleaning maintenance.
Fully NSF approved framework.
Superb material quality.
Lifetime performance.
Quite lightweight frame.
Balanced cutting efficiency.
Added blade stability.
Incredibly easy to hone.
Health protecting structure.
No rust or corrosion issue.
Poor outlook of handle.
Blade feels somewhat thick.
No inclusion of any sleeve.
3.DALSTRONG – Best Boning Knife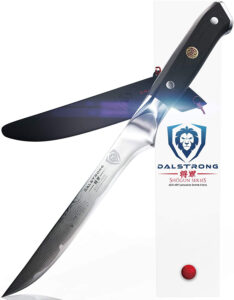 Dalstrong promises to bring in significant differences for kitchen appliances. It promotes your experience with culinary sections. The company blends ancient craft with modern innovative thinking.
And its revolutionary top boning knives definitely meet the satisfaction. The high-quality knife from Shogun Series features Damascus's strength.
Aside from the absolute best materials, the structure includes awe-inspiring design. Cutting-edge technology for outstanding craftsmanship brings in unparalleled performance here.
In addition, the beautiful engravement offers an aesthetical appeal. The exquisite Tsunami Rose pattern for its blade ensures a striking beauty.
Its standard 6" blade features top-notch Japanese steel. In fact, the AUS-10 steel stands 62+ strength on Rockwell Hardness scale. Unlike traditional ones, it comes with improved chemical composition.
Blend contains 1% carbon, 15% chromium, 1% molybdenum 0.2% vanadium, 1.5% cobalt & 0.5% manganese. The new steel formulation imparts encouraged stability & endurance.
There comes a total of 67 layers of stainless steel on the core. It initiates a Damascus-grade output for the steel following 3-step ancient Honbazuke method.
Liquid nitrogen treatment initiates optimum edge sharpness. It even retains the razor-sharp dimension for prolonged sessions. Honing the edges remain incredibly easy without any expertise.
You'll receive maximum knife robustness to debone the meat. The fully tanged construction promotes greater stability. A conventional triply riveted joint enables superior flexibility with no bending.
The blade offers scalpel sharpness at a staggering 8° – 12° angle on every side. It lets you tackle all the culinary challenges rather easily. Again, rust & corrosion cladding keeps the blade clean for a longer time.
Military-grade G10 handle induces non-slip grip. The material is highly impervious to moisture & temperature conditions. In fact, its ergonomic design allows further control & agility.
Intricated copper mosaic delivers appeal on the hand. Obviously, the solid surface promotes sticky & comfy grip all the way. Meanwhile, an engraved cap at the end gives further distinction.
Maintain the knife blade is simple, without any special treatment. It's not exactly dishwasher safe, so you'll have to go for hand washing. It just requires some clean water & mild soaps.
Tapered bolster triggers a convenient zero balancing action. It simply encourages a gentle & natural grip. Therefore, your fingers remain fully protected while making abrupt, rough cuts.
You can ensure maximum protection for the blade itself. As it happens, the pack includes a high-quality protective sheath for secure storage.
This stiff plastic sheath makes it best boning knives for hunting for packing in a hunting kit. This blade is perfect for skinning and debugging deer, so it is also the best boning knives for deer. And the blending of Japanese steel in the edge allows you to process bones after bones without the need to stop and sharpen.
Highlighted Features
Nitrogen cooled harness & flexibility.
AUS-10 Japanese super steel core.
Standard blade length measures 6".
Shogun Series Tsunami Rose pattern.
Functional bleeding edge technology.
Incredible edge sharpness retention.
8° – 12° staggering scalpel sharpness.
Finer tip easily gets between joints.
Total 67 layers of imposed steel.
Zero balance with tapered bolster.
Triply riveted full tang construction.
Ergonomic hand-polished design.
Included protective sheath for knife.
Superb Rockwell hardness.
Quite durable performance.
Precise cryogenic tempering.
Striking & stand out appeal.
Highly impervious handle.
Engraved capping on end.
Added resilience & resistance.
Comfortable, non-slip grip.
Smaller blemish on tip.
Not traditional Japanese.
Some angles feel heavy.
4. MEUFTY'S 7 Inch Flexible Boning Knife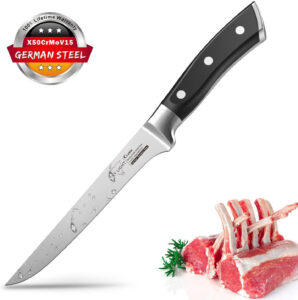 Obviously, Meufty seems a renowned brand in the kitchen appliance industry. It's innovative & high-end products are likely to keep it ahead. It brings classic craftsmanship blended with modern technology.
Its boning knife will meet the requirements while you're in the kitchen. The multipurpose knife simply comes with extended functionality. In fact, you can use it for accomplishing other tasks quite well.
Of course, the blade features German stainless steel construction. The premium composition is ready to serve your purpose withstanding all common rigors. It contains a high amount of carbon to impart greater strength.
Narrow-sized blade enables further control over the movement. The curved structure allows simple separation of meat from bones. High maneuverability triggers exceptional performance & accuracy.
Effective nitrogen treatment gives further harness for the blade. Its X50CrMoV15 steel takes 58+ rating on the Rockwell Hardness scale. Improved hardness assures the best cuts in every session.
It measures standard 7" for the blade. Therefore, you can easily remove the joint & skin meats. In fact, it's an ideal option for deboning, filleting, de-scaling, trimming & skinning.
Edge remains incredibly sharp right out of the box. The sharpness will barely fade away after some cuts. Not to mention, you'll have to hone the edges after several hours of work for efficiency.
Seasonal craftsmen built the hand-polished edges. It comes with a convenient 17° angling on every side. In addition, outstanding flexibility initiates high control over difficult to debone portions.
Just like the conventional system, it features triply riveted joint. Again, the integrated bolster ensures a maximum balance between the handle & blade.
Likewise, it's better to avoid dishwasher for safety. You can clean the entire frame using a soapy cloth. Of course, you'll have to keep the blade clean & dry for retaining the serviceability.
Military-grade handle includes high-quality polymer for durability. It remains intact against moist & temperature action. Besides, you'll enjoy enhanced control & agility with a comfortable grip.
The flexible fillet knife delivers professional integrity on the job site. Whether it's professional cooks or home chefs, the best boning knives fit everywhere.
It's quite popular among cautious food enthusiasts, thanks to the friendly price. The budget manages to combine essential features without crossing an affordable limit.
Highlighted Features
Unique composition to give performance.
Steel blade of commercial
Narrow, curved blade allows maneuverability.
Precisely forged to induce better accuracy.
Incredible multipurpose functionality.
Sufficient flexibility against superior hardness.
Enhanced harness through nitrogen cooling.
Conventional 3 riveted full tang construction.
Sharpened knife with 17° angle per side.
Military-grade supportive polymer handle.
Increased movement and cutting control.
Easy to hone & maintain with less effort.
Completely impervious to heat, cold & moist.
Excellent building quality.
High sharpness & retention.
Precisely forged steel blade.
Balancing built-in bolster.
Impervious polymer handle.
Superb agility and comfort.
No stain or corrosion occurs.
Suitable for different tasks.
Difficult cuts on raw skin.
Quite limited blade flexibility.
Slight discomforting issue.
5. imarku Boning Knife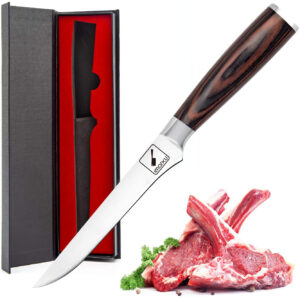 imarku is undeniably one reliable brand to manufacture high-quality kitchen tools. Aside from different appliances, the company comes with several knives. It emphasizes on overall quality, aesthetics & details.
No knife set becomes complete without one perfect boning knife. Obviously, ordinary one can barely cut it out. But imarku's best professional boning knives let you enjoy the kitchen task.
It features high-end German 7cr17mov steel. Besides, the steel contains an extra amount of carbon to induce further strength. The stainless blade remains intact & functional against all rigors.
Of course, the additional strength brings in added durability. Therefore, you can accomplish different cutting & chopping tasks. It easily achieves 54 – 58 rating on the Rockwell Hardness scale.
The blade retains edge sharpness for long enough. You can use its ultra-sharp efficiency to take down almost anything. Even the steel barely experiences rust, corrosion or frequent sharpening issues.
Hand-polished edges come with a standard 12° – 14° angled cut on sides. Its optimum resilience let you perform chopping, slicing & mincing with less effort.
Whether its deboning, filleting, trimming, skinning or butterflying – it's suitable for all. From professional chefs to home cooks, the 6" knife is ready to fulfill the demands.
Meanwhile, the integrated handle is of premium pakkawood. Apart from a solid grip, the polished surface delivers a matching style. Its reddish-brown exterior initiates superb appeal from aesthetical perspective.
The non-slip handle remains easy to hold without sacrificing your safety. You'll enjoy enhanced movement over minimal effort. It even enables excellent user control to make the cuts.
Again, the construction includes one reasonably large bolster. The tapered bolster imparts sufficient balance between the blade & handle. Not to mention, the engraved end-capping also encourages structural balance.
Despite its approval for dishwasher safety, you better avoid it. The high pressure is likely to damage the sharpened edges eventually. Instead, hand washing the frame is recommended.
All it takes you to rinse the knife with one soft, damp cloth. You can apply some mild soap or detergent to clean off stubborn particles. But of course, you'll have to store it in dry condition.
You'll receive convenient features without spending lots of money right here. The price is somewhat reasonable & of course, worth your investment.
Highlighted Features
Highly carbonated German steel.
Maximum control of movements.
Sharpened narrow blade design.
Exceptional strength on Rockwell.
Precise forging for accurate cutting.
Convenient 12° – 14° angling sides.
Superb retention of edge sharpness.
Polished handle of pakkawood.
Fully tanged blade integration.
Quite supportive built-in bolster.
Non-slip design for a comfy grip.
Safe, clean & fresh cuts every time.
Deluxe steel cap on handle end.
Enduring blade strength.
Ultra-sharp stainless steel.
Highly resisting framework.
Incredible holding balance.
Comfortable & soft grip.
Precise angling functionality.
Simple maintenance task.
Controllable & safe boning.
Slight lengthy for boning tasks.
Built-in sharpness seems poor.
Medium handle craftsmanship.
6. TUO Cutlery Boning Knife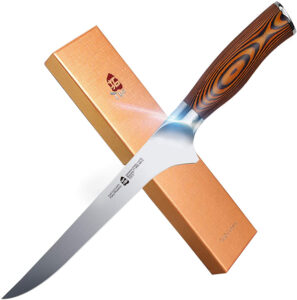 Since its foundation, Tuo sets standards in production techniques for different accessories. And its Fiery Phoenix line induces a seamless blend of formation & functionality.
As it happens, it brings in a top-notch knife for kitchen boning. The practical design comes with beautiful aesthetics to meet your style. In fact, the well-built Chinese knife will definitely satisfy your demands.
Unlike any other, its arguably the best cutlery piece for boning. Deboning the favorite meat reaches optimum simplicity here. The 7" knife is possible the one & only functional choice in its class.
Trusted materials & ergonomic design are important features of every Fiery Phoenix product. Besides, experienced craftsmanship gets the knife ahead of other models.
Of course, the construction features German stainless steel. The blade includes X50Cr15MoV composition to ensure maximized durability. High carbon amount will certainly encourage the overall strength.
The built-in steel gets treated with nitrogen cryogenic tempering. Also, the specially forged body comes with high-tech vacuum heat treatment. Aside from superior endurance, you'll receive maximum performance.
Narrow blade with precise positioning imparts great handling efficiency. Its expert fabrication triggers superb functionality. Likewise, the strength takes 54 – 58 rating on the Rockwell Hardness scale.
Nimble movement of the knife becomes easy & simple. It lets you enjoy unrivaled maneuverability to get the job done. Through deft control, the cutting yields the maximum amount of meat.
Its edge retains the razor-sharpness for sufficiently long sessions. The edges feature 15° cutting angle per side. Minimal slicing resistance enables quick & effortless cuts right there.
Ergonomic handle of pakkawood ensures a comfortable grip. Its masterful elegance encourages secure holding without any risk of fatigue. Obviously, the colorful appeal adds further value to the structure.
Reasonably sized bolster maintains sufficient balance. Again, the additional cap at the handle end gives further stability of the structure. It'll certainly help you to make precise cuts.
The blade runs through the whole length of the knife. Therefore, the fully tanged construction initiates great stiffness. But there comes no riveted joint to ruin the design.
For the price, it's one affordable choice to make perfect boning. The knife features everything you need to enjoy superior performance. You'll get to prep your favorite meat without spending unnecessarily.
Highlighted Features
Highly carbonated German steel blade.
Incredible robustness with great elegance.
Maximum yield over good deft control.
Quite narrow, ultra-thin blade flexibility.
Nitrogen cryogenic tempering structure.
High maneuverability for nimble movement.
Resistance against rust, wear & corrosion.
Bolster design to ensure balanced operation.
Aesthetically pleasing pakkawood handle.
Extreme precision through 15° sided cuts.
Razor-sharp edges with excellent retention.
Fully tanged construction with no rivets.
Engraved end-capping for added stability.
Practical & functional design.
Sufficient flexibility of blade.
Ergonomically handling grip.
Premium pakkawood aesthetics.
Durably tapered construction.
Precise chops & cuts with safety.
Suitable for wide culinary jobs.
Easily controllable narrow blade.
Unsuitable for veggie slicing.
High pressure causes bending.
Slight fatigue over long use.
7. Chicago Cutlery Walnut Tradition Boning Knife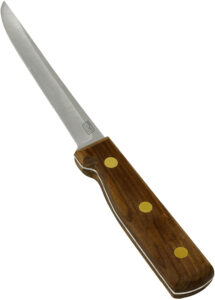 Chicago Cutlery is another reliable manufacturer of high-quality appliances. It produces culinary accessories of modern functionality over classic craftsmanship.
Its mini boning knife measures 5.0" only. Not to mention, it acts more like a multifunctional accessory. The appliance serves both the purpose of utility & boning knives at once. Extended functionality makes it one of the best commercial boning knives.
You can tackle all your boning & utility jobs with the knife in hand. Multifunctional efficiency triggers a wide array of usability. Aside from separating meat, you can even do slicing & piercing tasks.
The blade features durable stainless steel with an exclusive composition. Containment of extra carbon initiates further strength. It'll barely bend over accidental pressure while cutting.
Pointed tip lets you make the cut quite easily. It simply gets to the bone to separate meat from its surface. Of course, the one-side beveled edge may require re-sharpening after complex cuts.
Maximum sharpness prevails on the edge for long enough. You can make cuts or chops without worrying about its honing. In fact, 25° tapering grind ensures superb retention of edge sharpness.
Steel runs through the entire length of the construction. The metal continuity induces an enhanced control over the operation. Therefore, its full tang enables a superior balance between applied force & blade workability.
Of course, the conventional craft includes three riveted joints. The brass rivets perfectly hold the steel with an integrated handle. And the rivets won't get loose over the course of time.
Unlike any other model, the knife comes with a walnut wood handle. The smooth surface feels comfy on your palms. Its non-slip finish ensures steady holding against prolonged boning sessions.
Also, the stylish pattern imparts a classic appeal for the kitchen décor. Its flat construction easily fits in the blade, even without any engraved cap. The contoured wood adds aesthetic value with an attractive outlook.
The construction features no built-in bolster. Still, the system remains highly balanced for anyone. As it happens, you can effortlessly enjoy nimble blade movement all along.
Likewise, the knife isn't recommended for dishwasher cleanup. Instead, you should use a soapy cloth to take off the dirt. It's important to keep the blade dry for encouraging its serviceable life.
Highlighted Features
0" sized boning plus utility knife.
No-stain steel blade of high carbon.
Exclusive 25° tapered grind edges.
Pointed tip allows precise cuts/chops.
Quite lightweight stamped material.
Lifetime performance without issues.
Excellent retention of its sharpness.
Additional stability with extra control.
Complete metal tang construction.
Zero rust, stain, pitting or corrosion.
Perfectly intact triple brass rivets.
Nice walnut handle with contours.
Simple cleaning through handwash.
Manoeuvrable movement.
Highly durable framework.
Secure operational facility.
Classic look for kitchen décor.
Quite stable riveted joints.
Superior control on preps.
Incredibly easy maintenance.
Effortless deboning output.
Handle feels uncomfortable.
Beveled edge on one side only.
Honing seems troublesome.
8. Wusthof Pro Fish Fillet Knife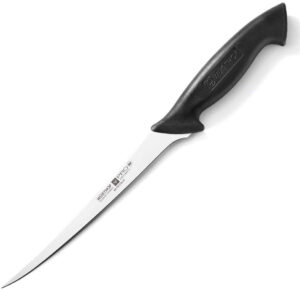 Wusthof is one exceptionally remarkable brand from different aspects. It keeps introducing high-end gears for about seven generations. And the extraordinary craftsmanship ensures outstanding culinary experience.
It's the same for the featured Pro filleting knife. The blade is specifically for removing bone & skin from the meat. The functional design satisfies the day-to-day requirements of demanding pros.
Highly precise stamped materials impart excellent durability. It imposed maximum quality & output from top to bottom. In fact. The latest laser treatment enables unrivaled blade consistency.
Apart from filleting, you can enjoy easy deboning & slicing. Of course, the thin but long 9" blade is quite suitable for delicate tasks. Sufficient flexibility allows quick deboning of meat right there.
Likewise, the blade features a German stainless steel body. High carbon containment raises the overall strength to increase its efficiency. Meanwhile, the polish is incredibly smooth to ensure simple but effortless cuts.
Its ergonomic design comes without any well-defined bolster. Also, the structure falls short of the classic three riveted design. But still, the knife manages to maintain excellent structural stability.
Blade doesn't run the entire length like the full tang construction. In fact, partial steel entrenchment encourages its overall functionality. As it happens, the lengthy blade gets to move easily without permanent bending.
The edge is ready just out of the box with razor-sharpness. Its angled side helps to retain the sharpness. You won't frequently need re-sharpening or honing on every session.
Synthetic Santoprene handle allows steady, non-slip grip. Its surface is reasonably smooth yet sticky. Therefore, you can hold the knife for long hours of use without fatigue.
You better handwash the entire knife rather than going for dishwasher. The clean up is still simple, requiring just one soapy cloth. But it lacks any included sheath to ensure secure storage.
Comfortable holding enhances your capability to make precise deboning. Handling the blade even on the toughest cutting job remains easy. Besides, a stronger grip applies the force perfectly to prep your favorite meat.
Peculiar design seems to fit any professional chef just right. Simple design yet high-efficiency output gives you satisfaction on the job. The knife itself is undeniably a great addition to the kitchen accessories.
Highlighted Features
Long 9" blade specified for filleting.
High carbon contained premium steel.
Polished steel blade for easy cutting.
Somewhat thin, narrow blade design.
Inclined joint between blade & handle.
Ergonomic shape for precise output.
Almost no stains, rust or corrosion.
Reasonable angling cut on every side.
Sturdy, fully intact polymer handle.
Black finish to impart great outlook.
Non-slip holding for prolonged sessions.
Simple cleaning through handwash.
Quite comfy, secure gripping surface.
Durable steel blade polish.
Simple & detailed frame.
Quick, safe & precise cuts.
Fully balanced construction.
Great sharpness retention.
Easy maintenance works.
Secure handle attachment.
Incredibly joint stability.
Blade feels slightly flimsy.
Handle cleaning is difficult.
Price tag seems expensive.
9. German Steel Curved Boning Knife

Update International doesn't seem like a familiar name. But in the end, high-quality products have to count. And that's where the manufacturer managed to make the list.
Its premium knife features a simple design to deliver satisfactory performance. Therefore, it's the ultimate choice when the appeal gets less concern or attention.
Among other models, the outlook feels somewhat unique. But of course, it barely compromises with the expected serviceability. In fact, the best boning knife for chefs delivers superior quality & endurance.
Standard 6" sized blade features a convenient curved shape. Aside from precise cuts, you'll enjoy effortless separation from skin & bone. Obviously, its practical design enables a skillful boning.
Silver or white outlook for the handle gives no special appeal. But it lets you control the movement for maximized accuracy. The handle features a friendly surface finish to ensure a consistent grip.
Again, German stainless steel imparts outstanding strength for the blade. The composition contains a reasonable amount of carbon. Therefore, the commercial formula triggers optimum sturdiness to withstand all rigors.
It's more like partial tang, running throughout a fraction of the handle. Despite partial entrenchment, the blade offers sufficient flexibility. The steel barely gets to bend unless heavy pressure acts on it.
Meanwhile, the edge initiates unrivaled retention of its sharpness. It's easy to hone the blade without special expertise. Of course, the sharpness allows you to make hours of uninterrupted use.
There comes no specific bolster or extended heel. Still, its thoughtful design promotes higher stability. The entire structure maintains excellent balance to ease your deboning tasks.
Commercial polypropylene plastic gives reasonable support for the hand. It initiates high chemical stability along with good temperature workability. Besides, the handle remains intact against kitchen moisture & further stains.
You'll definitely enjoy its comfortable surface. It enables a reliable, sticky holding all the way. Steady but comfy grip will reduce the chance of fatigue over prolonged sessions.
Like all others, you should prefer handwash to dishwasher clean up. It'll keep the silverware safe against plastic pollution. Moreover, the NSF listed cutlery barely poses any threat to human health.
Incredibly cheap price tag makes it one affordable option on the list. You can easily settle down for its contemporary performance giving up aesthetical value.
Highlighted Features
Premium-quality 6" sized boning knife.
Curved blade to impose sufficient flexibility.
Outstanding retention of edge sharpness.
German stainless steel with high carbon.
Practical structure eases deboning tasks.
Molybdenum & Vanadium for composition.
Ergonomic design with beautiful outlook.
Hand-honing for superior blade sharpness.
Effective cutting angle on every blade side.
Soft yet sturdy plastic handle attachment.
Non-slip & comfortable grip without fatigue.
Fully dishwasher safe, easy handwash facility.
NSF certification to possess no health issues.
Curved blade for accuracy.
Dependable steel frame.
Simple maintenance works.
Retention of honed edge.
Comfortable plastic handle.
Sharpened enough for the job.
Highly skillful craftsmanship.
Suitable for prolonged cuts.
Handle may feel cheap.
Limited blade flexibility.
Poor care leads to rust.
10. HENCKELS Forged Premio Boning Knife

BUY NOW
Henckels International is one remarkable brand with lots of top-notch products. It manufactures value-driven accessories backed by guaranteed performance.
And its premium boning knife is no exception to the assured promise. It boasts maximum efficiency at an exceptionally affordable price tag. The knife itself is obviously an essential kitchen tool.
The blade fabrication comes with universal German steel. Again, stainless steel contains a good amount of carbon. Therefore, the structure ensures optimum durability withstanding everyday kitchen rigors.
A slim profile perfectly fits into the palm of your hand. Lightweight construction enables full control over the cuts. Even a beginner can remove the skin & bones with the utmost confidence.
Blade measures a reasonable 5.5" in length. Though it's not exactly the standard, the knife is up for the job. Despite the smaller size, the blade initiates superb cutting efficiency.
Superior satin finish encourages a smooth entrance between the muscular joint. The pointed tip allows for accurate piercing. Aside from premium cuts, the knife offers an increased aesthetic value.
Forged bolster near the joint initiates further structural stability. A seamless transition prevails from the blade to its handle. You'll certainly enjoy a secure holding while working with the best boning knives here.
Straightened spine with abrupt heel extension triggers greater balance. Furthermore, the end cap with logo-stamped steel imparts robustness. It simply distributes the imposed pressure throughout the knife length.
Of course, the blade edge delivers an incredibly fined razor-sharpness. It even retains the edge over long hours of cutting session. The re-sharpening process is quite easy & you can do it yourself.
The steel continues until the very end of the knife length. In fact, the fully tanged construction has a sturdy riveted joint. As the traditional system, there are three uniform rivets to hold the blade in position.
Santoprene handle delivers a highly comfortable grip. The sticky surface lets you work for hours without slipping. Moreover, the polymer resists temperature change & moisture attack.
As it happens, you just require one soapy cloth to take off the dirt. Without a doubt, it's dishwasher safe. But high-water pressure will drain the overall edge sharpness rather quickly.
Highlighted Features
High-quality German steel fabrication.
Aesthetic design possesses good value.
Reasonable long 5.5" size for the blade.
Sharpness retaining satin blade finish.
Incredibly honed to retain edge thinness.
Easy movement through light framework.
Triply riveted full tang steel integration.
Durable forging for the built-in bolster.
Seamless transition to handle from blade.
Robust Santoprene with smooth surfaces.
Curved handle design for a prolonged grip.
Stylish end cap to encourage balance.
Dishwasher safe, simple clean up facility.
Durably forged steel blade.
Comfortable handling design.
Quite stable construction.
Precise cutting performance.
Incredibly balanced frame.
Steady holding of the knife.
Resistance to rust, corrosion.
Manoeuvrable movement.
Poor plastic packaging.
Knife feels slightly heavy.
Somewhat cheap look.
Frequently Asked Questions (FAQs)
Question: Do I really need a boning knife?
Answer: In fact, you may not entirely require a specific knife for boning the meat. But the best quality boning knives can certainly help you to prep the meat in a convenient way. Many cooks still get away easily by using a stick or chef's knife.
Question: How can I sharp boning knife?
Answer: The process is dependent on the knife manufacturer's recommendation. Sharpening any boning knife is more or less the same as other knives. But different design specs may call for some special requirements.
You can use a satisfactory sharpener to retain back the edges. Of course, you'll require some online/offline help for the first time. Besides, you can contact professionals to get the job done.
Question: Can I use boning knives for filleting fishes?
Answer: Absolutely. Several boning knives are quite suitable even for fish filleting. Lots of high-end blades can make perfect cuts for fish & meat. Not to mention, you can find knives to serve both purposes. Sharp, pointed tip with a wide blade can easily perform dual deboning action.
Question: Should my boning knife be flexible?
Answer: Preference for blade flexibility is totally up to the intended uses. Stiff blades are strictly for tougher meats. Meanwhile, flexible ones can induce intricating cuts.
If you're up to deboning meats only, a stiff/rigid knife will do the job. But for both boning & filleting, you'll have to go for semi-flexible ones.
Question: What is the best boning knives size?
Answer: There are considerable varieties when it gets to blade size. Of course, there is no specific size to meet everyone's demand at once. Blade size tends to vary within 5" to 7" which can even go up to 9". For deboning tasks, 5.5" & 6.0" are mostly popular among food enthusiasts.
Question: How to hold a boning knife safely?
Answer: Boning knives are quite sharp & you'll have to remain cautious while using it. Improper handling leads to accidental cut injury within seconds.
You better understand how to use a boning knife correctly. Use your thumb with three fingers to hold its handle. Meanwhile, place your index finger on the blade for strategical pressing.
Final Verdict
Every kitchen features a full set of useful knives of different functionalities. The set remains incomplete without at least a best boning knife.
From butchers to chefs, breaking down the cuts of meat require accuracy. And only boning knives can serve the interest from every aspect.
Don't miss to judge its overall pliability to ensure maximum performance. You'll have to match specs with the demand, considering the price point.
It's important to remember that how you feel about the chosen one. No doubt, the best boning knives will let you make premium cuts on your own.