8 Best Electric Knife Sharpeners in 2023
Humankind has been using sharp knives long before recorded history. It means that they know how to sharpen their knives since the ancient age!
We are not going to discuss history here. We will talk about the knife sharpeners, specifically the electric ones. Yes, you heard it right.
In the past, people used handheld sharpening tools. Now, we have super smart electric knife sharpener which can do the task better and quicker.
A sharpener is a vital tool for your knife. An inferior sharpener is enough for damaging your precious knife. Therefore, settle for nothing other than the best electric knife sharpener.
In this article, we will explore the top 8 best electric sharpeners in the market. A buying guide has also been written for your convenience.
How Often Should A Knife Be Sharpened?
This is a common question asked by many enthusiasts. But, there is no specific answer to this. Actually, it depends on the frequency and the purpose of use.
The honing process usually realigns the existing edge of the blade. Therefore, it is a good practice to hone and polish the blade regularly.
On the other hand, grinding creates an entirely new edge in your blade. It is done when the blades become blunt due to heavy use.
If you need a knife for doing your everyday household chores, you should hone the blade every week. Keeping the knife clean and dry, and honing it on a regular basis will keep the rust away from it as well.
However, do not grind too often. The material may wear out if you grind the knife frequently. Thus, excessive grinding will shorten the lifespan of your knife.
You may grind your knife once in a while for any specific purpose or when it gets dull. Suppose, you have a large knife and you are going to slaughter a sheep with it. Then, honing and grinding the knife for smoother operation are very good decisions.
One major question is- how to identify when the tool needs to be sharpened?
Those who use knives regularly can tell the difference just by judging the performance. For example, if you are cutting vegetables with your knife daily, you can tell when it is not smoothly cutting through the tomato. Thus, you can sharpen it when necessary.
Another way is to check the sharpness of the blood by your thumb. This process also requires expertise. Experienced users can identify when there are bars on the edge of their blade.
To cut the long story short, honing the knife in every one or two weeks is a good practice. Grinding shouldn't be done often as it pulls off some material in order to make a new edge in the blade.
Top 8 Best Electric Knife Sharpeners
Don't you want to possess the sharpest, most functional knife you can get your hands on? We all do.
But, here's the deal. No matter how great a knife you have, it will be blunt after multiple uses. Therefore, you need to have a top-notch knife sharpener.
Let's check out some of the best sharpening tools in the market in 2020 as well in 2021. I have tried to write a short review by outlining the major benefits and shortcomings of each item.
1.Chef'sChoice 3-stage PEtec – Best Electric Knife Sharpener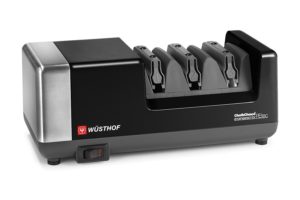 Chef'sChoice is the world-class producer of top-notch knife sharpeners. It is equipped with the exclusive Precision Edge Technology. As a result, you do not have to worry about the perfect angle anymore.
The sharpener will re-profile the edge of the blade to give a 14-degree perfect bevel angle. Consequently, it will give your blade 20% sharper edge than other sharpeners.
Additionally, a flexible angle guide will pioneer your knife through the accurate position. It will save you time and effort. You will be able to sharpen more knives easily since all the slots have the angle guide.
In terms of functionality, you will get more than average from this tool. It comes with three stage processing system. The first stage features coarse diamond abrasive for sharpening blunt blades. But, the second stage is for honing the blade. Finer grit diamond wheels have been used in this slot.
In addition, the third stage lets you polish the blade. The advanced stropping material in this stage is sufficient for sharpening serrated knives.
It should be worthy of mentioning that the grinding wheels will create a new edge on your blade. I suggest not to grind too much as it wears out the material. Stage two refines the old edge and hones the blade. Therefore, hone your knives in this slot frequently.
Let's watch a video!
Sleek design
Flexible angle guide for accuracy
Stainless steel construction
Easy to use
The grinding wheels are not replaceable
Unsuitable for knives with thick blades
2. Chef'sChoice 270 Hybrid Diamond Hone Knife Sharpener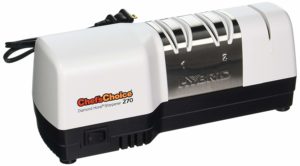 Chef'sChoice is a renowned name in the electronic kitchen appliance industry. It is the child of Edgecraft Corporation; a giant manufacturer in the field that sells their product in more than 80 countries. Rest assured, you are getting a reliable knife sharpener in the form of Chef'sChoice 270.
The product is available in white color. Its aesthetic look will surely increase the glamor of your kitchen.
It comes with three stage slots system. Surprisingly, the sharpener is not completely electric. Rather, it uses a semi-electric system. You will get the comfort of electric sharpening in the first two stages. The third stage has a manual honing facility. Thus, this technology is called hybrid technology.
Pure diamond abrasive wheels shape and sharpen the blade electrically in the first two stages. It is a safer choice to rely on electricity for precise grinding; since the grinding step has more aggressive material.
On the contrary, stage 3 features the finest diamond abrasive wheels. It gives you the freedom of honing manually. So, you can polish your blade just the way you want.
On top of that, the crisscross sharpening technology will make the edges of your knife razor sharp. The edges will have more bites too. Furthermore, the makers have installed stainless steel knife guides that are very durable.
In short, it is a very functional knife sharpener that comes equipped with advanced digital technology. If not the best electric knife sharpener; it is certainly one of the best sharpeners in the industry.
Let's watch a video!
Hybrid sharpening system
Crisscross technology sharpens the edge inwards and outwards
Sharpens straight edge and serrated knives too
Assembled in the USA
Affordable
Dependable
Durable knife guides
Not a full-electric device
Noisy
3.Chef'sChoice 250 Diamond Hone Hybrid Sharpener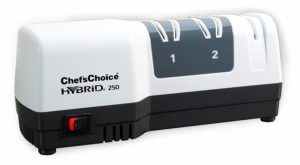 The third position belongs to the Chef'sChoice 250. It has much more resemblance to our number 2 pick. This one also comes with three stage sharpening facility.
What's more, it is another hybrid sharpener. Do you have a dull knife? Just take it inside the electric stage of the sharpener and it will take care of the rest. In no time, you will be able to transform your old, blunt knife into a razor sharp knife with new sharp edges.
Afterward, you can hone it in the manual section regularly for a prolonged lifespan. This product is geared with diamond abrasive wheels that are ultra-thin.
The criss-cross patterns of the wheels are dedicated to giving your blade the sharpest edges. It creates a triple bevel edge on the blade that is sharper than the conventional edges you see.
This sharpener works really fast, and maybe that's why it is liked by many. The item comes pre-assembled. You can use it very easily. The white colored tool will give your kitchen décor a new, transitional look.
The shape of the product is very compact. It has a product dimension of 11.2 x 6.2 x 5.2 inches. Despite being a hybrid unit with separate electric and manual stages, this one weighs only 2.7 pounds. It makes the device more portable and maneuverable.
It works well for 3-4 inches kitchen knives. Not only that, you can sharpen different kinds of household and sport knives, even the pocket knives with this tool. In fact, it might be the best electric knife sharpener for pocket knives.  
Let's watch a video!
Value for money
Reliable
Quick
Engineered and assembled in the United States
Leaves a mark on the edge of the blade
Requires practicing in order to use perfectly
4. LINKYO Electric Knife Sharpener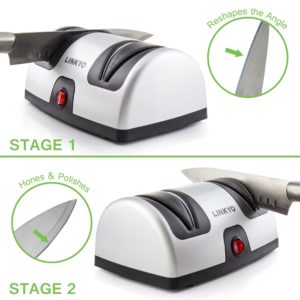 This is a compact and convenient sharpening tool by Linkyo. It sharpens the blade in two stages. The first stage is for grinding the blade in order to create new edges. And, the second stage is for polishing the blade for regular use.
It has plenty of safety features that will enable you to use the device effortlessly. The precision guide will hold the knife at the correct angle. It requires no downward pressure. Resultantly, you will be able to achieve the perfect sharpening angle rather effortlessly.
Meanwhile, the appliance has an automatic 'stop' feature. It prevents the blade from damage when you apply too much pressure. Besides, Non-slip suction cups are given to keep the appliance stable during use.
It is ideal for sharpening straightedge knives. The operation is pretty simple and straightforward. Draw the knife slowly and the positioning guide will set it perfectly. After completing the process, simply pull it back at 90-degree angle.
There is a small receptacle to contain the metal debris. Plus, the plugs can be removed easily for your convenience.
This unit looks absolutely stunning. The elegant finish will surely attract those buyers who want a functional sharpener that will also increase the beauty of their home décor. It has a white and black color combination. Also, the red colored power switch is positioned at the perfect place for ease of operation.
The best part is that it comes at a very low price. Considering all the attributes, it is maybe the best budget electric knife sharpener in the market.
Let's watch a video!
Multiple safety features
Quick operation
Compact shape
Cheap
Only supports the straightedge knives
Takes out much of the material in the first stage
5. Work Sharp Combo Knife Sharpener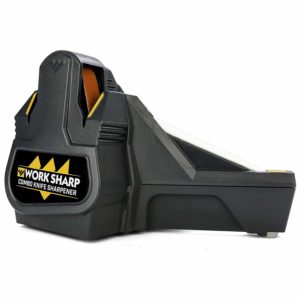 Work Sharp is an illustrious American brand. The company has over 40 years of experience in making sharpening tools. Their Combo Knife Sharpener is regarded as an all-out solution for sharpening all types of knives; let it be a tactical knife, a kitchen knife or a serrated knife.
This combo knife sharpener is a semi-electric unit. It uses a hybrid method that combines both power and manual sharpening technology.
First, you will get adjustable abrasive belts. It helps in making convex cutting edges on your blade. The new edges were superior to the common flat edges and thus, cuts with more precision. Top-notch abrasive belts have been used to ensure enhanced performance and longevity. Resultantly, it can sharpen any type of blade.
You can polish the blade with a ceramic honing rod that sits at the right side of the device. The tapered rod lets you sharpen different size of serrated blades as well.
Moreover, there are yellow guided slots and an angle guide which will allow you to use the tool comfortably. The 25⁰ angle guide will aid you in both sharpening and honing.
If you are a busy person who needs to sharpen without wasting any time; then this product might be an ideal option for you. Only a few passes through the tool are necessary for creating a sharp edge on your blade.
Objectively speaking; the item is fast, maneuverable and versatile. It is going to lead the rat race for the best electric belt knife sharpener.
Let's watch a video!
Made for him or her
Efficient
Multipurpose tool
Sharpens the long blades with ease
Designed for right-handed users
6. Chef'sChoice 120 Diamond Hone EdgeSelect Professional Electric Knife Sharpener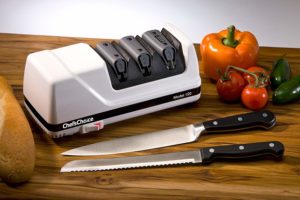 This white beauty comes with tremendous accuracy and excellent functionality. It has three stages for honing and polishing your knives near to perfection.
The first and second stages have pure diamond abrasives that make every blade extremely sharp. In stage three, a marvelous stropping disk will polish the blade to near perfection.
Plus, the precision angle control guide promises to keep you free from errors. It automatically adjusts to the correct angle. Thus, it facilitates easy, errorless operation even for the newbies.
The item has sufficient safety features too. There is a safety button for preventing accidental on/off. The resilient feet of this unit provides enough stability and rigidity needed for safe and sound performance.
It works for both straight edge and 20⁰ serrated knives. What's more, the exclusive EdgeSelect feature in this device allows you to choose the optimum edges for your knives. It supports gourmet, hunting, and even serrated knives. Though, you can't sharpen the blade of your ceramic knives or scissors with this tool.
The unit is assembled in the USA. It has a product dimension of approximately 12 x 6.2 x 6.2 inches. Also, the item weighs only 4.63 pounds. Thus, it is a very handy unit with a compact shape for ease of use.
I want to make one thing clear though. Even though the unit is very easy to use, you need to read the instruction manual attentively. Otherwise, you might fail to sharpen up to your expectation. Operating a sharpener with a three-stage sharpening system is a bit tricky. Therefore, take some time to read all the instructions.
Let's watch a video!
The EdgeSelect feature coupled with Trizor-Plus system lets you select the optimum edges
Incredibly fast performance
Simple on/off button
Easy to use
Versatile
Can't convert the 20-degree bevel edge of a knife into 15 degree
Not suitable to use for the professional knives
7. Chef'sChoice 15 Trizor XV EdgeSelect Professional Electric Knife Sharpener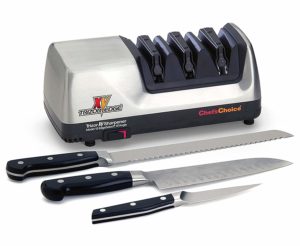 Another product from Chef'sChoice makes it to the list. It has almost all the traits of the 120 model with some phenomenal features that have made it a strong contender for the best professional electric knife sharpener.
The most amazing one is that it can turn the 20-degree bevel edge of your blade into the 15-degree edge. So, the blade will become thinner. It is a great tool for converting your regular household knives into razor-sharp Trizor knives.
You will get the same EdgeSelect three-stage sharpening system which has already become quite familiar. High-quality diamond abrasives in the first two stages will sharpen both the straightedge and serrated blades like butter. It gives you the freedom to customize the edge of your blade depending on your needs.
Sharpening is not everything. You need to polish your knives well in order to maintain it for a long time. To provide you with the best polishing experience, the makers have incorporated advanced stropping disk. It is a lifesaver for the serrated blades since it corrects the alignment of the tooth in these blades.
The item also features a flexible, patented spring guide. It controls the sharpening angle and maintains a high degree of accuracy. The noise is around 65 to 75 lb.
In addition, the 15⁰ Trizor XV Technology creates an arch-shaped edge that will prolong the lifespan of your knives.
Let's watch a video!
Edge Select with 15⁰ Trizor XV Technology
Lightning fast operation
Adjustable spring guide
Supports almost every type of knife
100% diamond abrasives and advanced stropping facility
Sharpens straight edge and serrated knives
Not for long time use
Diamond abrasives may turn out too harsh for delicate knives
8. Presto 08800 EverSharp Electric Knife Sharpener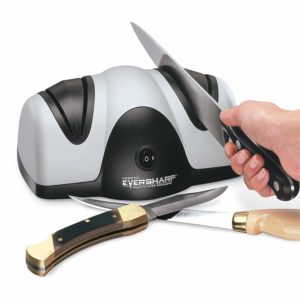 If you are looking for the best electric kitchen knife sharpener, you have to consider this product as a worthy candidate.
First, let me explain how simple it is to use this tool. It has four slots. The first two slots are for grinding dull blades. It will create a new edge and shed some of the material in the process. The other two slots are for honing the blade. You will be using the last two slots more often.
There is no need to fix the angle as the slots are positioned in the right angle. It eliminates guesswork and guarantees consistent performance. Therefore, you won't require an angle guide for precisely sharpening your knives.
This product comes with a very durable abrasive material called Sapphire. The material is very hard. It creates a very sharp edge within seconds. Thus, the operation is fast and quick.
It is a lightweight device with simple features. Three suction cups prevent the unit from slipping. As a result, you can conveniently use it for sharpening your kitchen knives. It is also equipped with two receptacles that will keep your kitchen free from the metal shavings.
The voltage rating is 120 V. So, you won't face any struggle to connect and use it at your home. If simplicity, efficiency, and straightforwardness are your key requirements from a sharpening tool; then the Presto EverSharp sharpener has it all.
Sleek design
Two-stage sharpening system
Durable sharpening wheels
Simple to operate
Also supports the knives that are serrated on only one end
Excellent disposal system
Not a professional unit
Doesn't support the serrated blades
How to Choose the Best One
Reading the best electric knife sharpener review is a good decision for those who want to shortlist the best product in the market. But, reading the reviews alone is not going to save you from making disastrous buying decisions in the market.
If you cannot make up your mind about the things to notice during the purchase, you are likely to suffer. There is an array of options in the market. So, you have good reasons to get confused.
Besides, what others are considering a very good unit may not be an ideal tool for your knife. Therefore, you should know what to look for and how to choose the best one out there.
Most of the electric knife sharpeners come with two sharpening stages. The first stage has a coarse abrasive. It will help in sharpening the damaged blades. The second stage uses a fine abrasive. So, you can polish and hone the blade easily.
Some modern knife sharpener has three or more stages. The multi-staged sharpeners are rare and they often include a separate honing section.
Meanwhile, there are some sharpeners with a single stage. They are useful in sharpening small household knives quickly.
The best electric knife sharpener must have high-quality abrasive material as the surface of the sharpening edge. Thus, look for the one which is made with the best material. Carbide, diamond, ceramic, titanium and steel are the most widely used materials in this tool.
Diamond abrasives are the most expensive; maybe because of their unique properties. You are likely to generate heat upon sharpening your knife.
Luckily, Diamond won't get too hot during the process. However, the material is rough for delicate knives. If the blade is thin, it may take out the metal.
Carbide is comparatively a cheaper option than Diamond. It is great for sharpening small to medium blades.
Polished ceramic and steel are also good substitute material. They will allow you to hone with more ease. Remember that if you hone regularly, you won't have to sharpen your knife too often.
I suggest you buy a sharpener that has an adjustable angle guide. No matter how much experienced you are, relying solely on guesswork during sharpening won't give you an optimal result. In order to guide the knife through the right angle, an angle guide is a must. It increases both the speed and accuracy of sharpening.
These slots help in sharpening the side of the blade. If the sharpener comes with the sharpening slots; it will also help them in maintaining the desired angle during honing.
Versatility, Quality, and Budget
Most importantly, the customers need to fix the types of knives they will be sharpening. Not all the sharpening tool will be able to sharpen a pocket knife, hunting knife, kitchen knife, and a gourmet knife.
You may also need to sharpen your scissors and other small tools. A knife and tool sharpener will be able to sharpen the tools as well.
Besides, the best professional electric knife sharpener should have the capability of sharpening different materials. After all, you are searching for the best all-around product. Aren't you?
For these reasons, you should buy a premium sharpener. Never go for a cheap quality as it will damage your knife too.
However, a good quality knife sharpener will be costly. Therefore, determining the budget for this tool is also necessary.
Many people talk big about the importance of portability, but I beg to differ. The handheld sharpening tools are extremely dangerous to operate.
Therefore, I always recommend using a benchtop or stationary device of medium size. It shouldn't be too large. Otherwise, it will be difficult to use. The good thing is that most of the stationary tools offer robust and superior performance.
The electric sharpeners can either be powered by an adapter or via batteries. A battery powered device will give you the freedom to use the device at any place; even during power cuts. On the other hand, there is no hassle of replacing the battery in an electrically powered device.
You should seek the middle point. The smart option is to buy a device that comes with both facilities.
Some people think the safety features are not necessary. Most of the time, they pay the price heavily by injuring themselves accidentally.
A knife sharpener is without a doubt a risky tool. Using the device involves risk. Hence, you should always look for a tool that comes with sufficient safety feature. The best electric knife sharpening system must have a state of the art safety facility.
But what kind of safety features to look for?
First, the device should be safe to move. The use of rubber feet will make the unit safe and rigid. It will prevent the sharpener from moving, reduce vibration and boost accuracy. You will be able to move the device easily as well.
Some sharpeners also have anti-slip rubber handle for ease of use. Having a flexible guide will not only correct the angle but also provide safety to the users.
Way to Use an Electric Knife Sharpener
There is a user manual equipped with new things. An electric knife sharpener also has that. It is an easy task to use an electric knife sharpener by following the user manual. If you are using it for the first time, you should be careful. And ensure that you are following the safety protections, so you don't harm yourself or everyone around you.
Phase 1: You need to know the shape and style of the blade so that you can hold it properly. The better you know the shape of your knife, the better you would have the option to hone it. Flat knives are simple to sharpen than curves.
 Phase 2: See how your electric blade sharpener functions. Read the manual which goes with the machine. All sharpeners work differently, so you ought to know about how yours functions. So far you have used an electric knife sharpener earlier; it is wise to read the user manual for the new machine.
 Phase 3: You would now be able to continue to begin utilizing your machine.
Get ready: Plug it in and turn on the power. Ensure it set on a plane, dry surface.
Sharpen: You need to know how sharp your kitchen knives need to be and at what point you need to sharpen them. Most electric knife sharpeners start with a dense platform for dull blades, then a better stage for knives that are not too sharp or too dull, and after that, the third level for polishing.
 Procedure: Place the knife in the slot. Ensure you hold the knife down but do not apply pressure. Let the heaviness of the knife set and have contact with the polish. Now draw the blade gradually and reliably towards you. Ensure you are running with the ankle up to the tip of the knife. You have to go over this procedure twice on each side, which refers to a total of four times. Repeat this step in the second and third steps to advance hone and polish the knife. Switch off the power after finishing the whole sharpening process to stop the motor from overheating.
Phase 4: Now check if you have reached your preferred sharpness level. Hold a tomato in hand to test the sharpness. In case you are not happy with the pose, do the same steps again until you feel that you have got the required result. When you are satisfied, clean your knife with water and a dry towel.
Frequently Asked Questions
Q: How much space is needed?
The electric knife sharpeners won't take much space. Most of the tools are compact. You can easily place them on top of a shelf or a table.
Q: Can I use cheap knives for grinding?
It is advised not to. The grinding process wears out some material from the blade and makes a completely new edge. The inexpensive blades are of inferior quality. So, they will not survive such a heavy operation.
Q: How important is an angle guide?
If you manage to maintain a perfect angle during the sharpening process, it will yield the best result. The inclusion of an angle guide will make the sharpener more accurate. Therefore, it is very important.
Q: Which one is better? Electric or Hybrid Sharpeners?
That's a tough call. Each one has its advantages and setbacks. But, the hybrid tools are more convenient and gives more freedom.
Q: Does the warranty matter?
Most people want to have an electric knife sharpener that will last long. If it comes with a good warranty, you can worry less about longevity. So, the warranty does matter.
Final Words
Honestly speaking, I don't know of any other sharp object that we use more frequently than the knife. You need this thing whether you are cooking in your kitchen, hunting in the forest or camping in a park.
Thus, having an excellent sharpening tool will help you immensely in yielding out the best performance from your knife. I hope you have gained some useful knowledge about the electric sharpeners from this article. Do follow the pieces of advice given here and buy the best electric knife sharpener from the market.